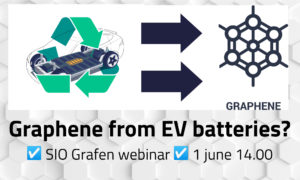 Graphene can be manufactured in many different ways and with different raw materials.
This webinar presents the GRowUP project, which examines the possibility of reusing carbon that is already in the value chain.
They have investigated the idea of recycling graphite from end-of-life electric vehicle batteries (LIB) into graphene, which could provide a sustainable source of carbon for future Swedish graphene production.
This is one of the projects that received funding in SIO Grafen's call, which addresses common obstacles to graphene innovation during the winter 2021-2022. The webinar will be in English.
▶️ Wednesday 1 June at CET 14-14.30, sign up here!