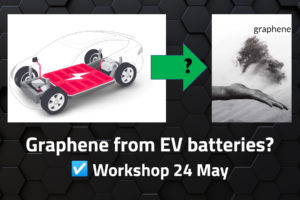 This workshop addresses the challenge of accessing non-fossil based raw material for graphene production in a circular economy. It is an investigation into the possibility of using end-of-life electrical vehicles' (EV) batteries as an alternative carbon source for graphene manufacturing.
We anticipate that most, if not all, Swedish graphene producers would be able to access this new source of sustainable carbon once the electric vehicle revolution is truly here. If graphene products made of battery carbon will have the same quality and characteristics as products manufactured from pristine graphite, there is a big win for both graphene manufacturing industry, battery manufacturing and recycling services.
The workshop will present investigations of the market of worn-out batteries, accessible carbon, technologies needed, circular design and cost aspects.
✔️ Read about the project GRowUP, here!
✔️ Want to know more? Contact Sofia Öiseth: sofia.oiseth@chalmersindustriteknik.se
✔️ The workshop takes place 24 May, CET 13-16, and will be digital. Please, sign up below!