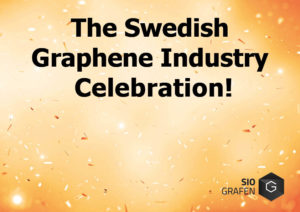 SIO Grafen will celebrate a decade of graphene progress made in Sweden and Europe. Since the Nobel Prize in Physics 10 years ago a lot have happened – here are some Swedish exampels and an exciting look ahead.
The Swedish Minister for Business, Industry and Innovation Ibrahim Baylan will join the party, as will many more guests.
→ When: Thursday 10 December at 14.00 CET.
→ Info: The event is in English, free of charge, and one hour long.
→ To watch: Register here!