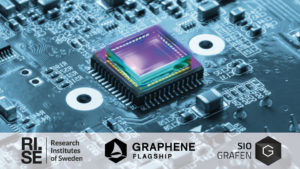 Welcome to a workshop focusing on Graphene in sensors. Take this opportunity to listen to presentations and participate in discussions.
For those interested, there will also be a lab tour at RISE Kista, including Electrum cleanroom and Characterization labs.
This is a joint arrangement by SIO Grafen, RISE and the Graphene Flagship.
🔵 When: 23 November, 11.00-17.00.
🔵 Where: Room "Knuth", RISE Electrum, floor 6, elevator B, Kistagången 16 in Stockholm.
Schedule:
11.00-12.00 Lab tour
12.00-13.00 Lunch
13.00-13.15 Opening (RISE, SIO Grafen, Graphene Flagship)
13.15-14.45
▫️Gordon Rinke, AMO
▫️Jan-Erik Källhammar, Veoneer
▫️Floria Ottonello Briano, SenseAir
▫️Pitch presentations
14.45-15.05 Coffee break
15.05-16.25
▫️Arne Quellmalz, In2great Materials AB/KTH
▫️Tom Yager, Institute of Solid State Physics
▫️Patrik Bjöörn, Smena Catalysis
16.25-17.00 Free discussion
Please, register below: